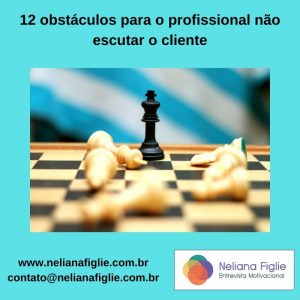 12 obstáculos para o profissional não escutar o cliente
Muitas habilidades de comunicação rotineiramente usadas na prática clinica não fazem parte
da escuta reflexiva. Thomas Gordon, em 1970, reuniu essas habilidades em 12 tópicos que
denominou como Bloqueios a Comunicação porque eles obstruem ou interferem o movimento
do cliente em direção a uma mudança.
Na Entrevista Motivacional se faz necessário identificar o padrão de comportamento do
profissional de modo a não cair nessa armadilha e com isso deixar de ter uma conversa
colaborativa.
1.Ordenar, dirigir ou comandar
2. Advertir ou ameaçar
3. Dar conselhos, sugestões ou soluções
4.Persuadir, argumentar, sermões
5.Moralizar – o que deve fazer
6. Discordar, julgar, criticar ou culpar
7. Concordar, aprovar ou elogiar
8. Envergonhar, rotular ou ridicularizar
9.Interpretar ou analisar
10.Consolar, solidarizar-se ou tranquilizar
11. Questionar ou interrogar
12. Retrair, distrair, ser indulgente ou mudar de assunto
Por vezes algumas das habilidades listadas podem ser uteis com alguns clientes. Por exemplo:
elogiar. Com o elogio você almeja reforçar um comportamento, mas se você elogia um
comportamento não verdadeiro por exemplo, pode estar plantando um bloqueio na
comunicação efetiva entre você e seu cliente. Por isso é importante você elogiar algo que tem
evidências de realidade. Neste contexto, todos esses bloqueios podem funcionar como
obstáculos ou possibilidades de comunicação efetiva. O importante é identifica-los, levar em
conta a personalidade, comportamentos, atitudes e crenças do cliente e para isso é preciso
escutar ativamente.
Referência:
Thomas Gordon's 12 roadblocks. From Parent Effectiveness Training by Thomas Gordon, M.D.
copiright@1970by Thomas Gordon. Used by permission of McKay, a Division of Random
House, Inc.