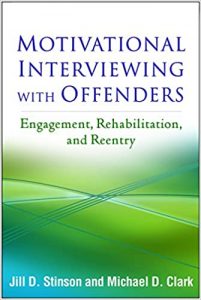 Jill D. Stinson and Michael D. Clark
Applications of Motivational Interviewing Series, edited by Stephen Rollnick, William R. Miller, and Theresa B. Moyers.
Guilford Press    Ano: 2017
Escrito por especialistas que trabalham  com populações assistidas por  tribunais, este livro mostra como entrevista motivacional pode ajudar os infratores a ir além da resistência ou da complacência superficial e conseguir uma mudança de comportamento significativa. O uso da Entrevista Motivacional evidencia a promoção da reabilitação e a reintegração,  baseando-se nos valores, objetivos e pontos fortes dos clientes – não simplesmente dizendo-lhes o que fazer.
Os autores descrevem claramente as estratégias centrais da Entrevista Motivacional  e  exemplos de diálogos na justiça penal e configurações forenses. De importância crucial, o livro aborda a implementação da Entrevista Motivacional nos sistemas de reabilitação de agressores, incluindo estratégias práticas para superar obstáculos.