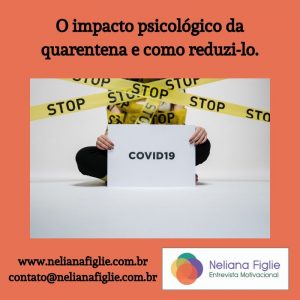 O surto do Corona vírus em dezembro de 2019 eclodiu com o isolamento social em muitos países como uma forma de controlar a infecção, instalando uma quarentena.  Decisões sobre como aplicar a quarentena devem basear-se nas melhores evidências cientificas disponíveis.
Neste estudo, foi realizada uma revisão do impacto psicológico da quarentena com três bancos de dados eletrônicos. Dos 3166 artigos encontrados, 24 estão incluídos nesta revisão.
A maioria dos estudos relataram efeitos psicológicos negativos, incluindo sintomas de estresse pós-traumático, confusão e raiva.
Os estressores com maior duração da quarentena foram: medos de infecção, frustração, tédio, suprimentos inadequados, informação inadequada, perda financeira e estigma. Alguns pesquisadores sugerem efeitos de longa duração.
Em situações em que a quarentena é considerada necessária, autoridades devem estipular o tempo mandatório; prover informações com uma analise racional e logica da situação e  garantir suprimentos suficientes a população. Apelo ao altruísmo ao lembrar os benefícios da quarentena para a sociedade em geral, pode ser favorável.
Leia o artigo na Integra!
Samantha K Brooks, Rebecca K Webster, Louise E Smith, Lisa Woodland, Simon Wessely, Neil Greenberg, Gideon James Rubin. The psychological impact of quarantine and how to reduce it: rapid review of the evidence. Lancet 2020; 395: 912–20.
https://www.thelancet.com/journals/lancet/article/PIIS0140-6736(20)30460-8/fulltext