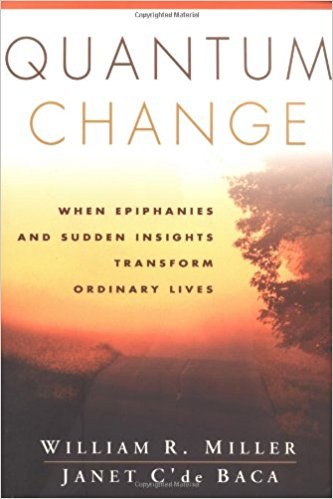 Indicação de Livro:
"QUANTUM CHANGE: WHEN EPIPHANIES AND SUDDEN INSIGHTS TRANSFORM ORDINARY LIVES"
William R. Miller Phd and Janet C'de Baca Phd Idioma: Inglês Ano: 2001
O livro aborda o questionamento dos autores sobre um tipo diferente de mudança que foi algumas vezes experimentado por pessoas que encontraram algo descrito como " um raio do céu " ou " ver a luz no fim do túnel". Os autores escreveram este livro com histórias reais e comoventes.
Explorando a experiência de "mudança quântica" através da lente da psicologia científica, o livro identifica dois tipos de transformação pessoal súbita: insights e as epifanias mais místicas. Muitos participantes contaram suas epifanias e percepções repentinas em requintados detalhe após um evento, descrevendo tais resultados como duradouros e gerando um novo sentido na vida, com mudança nos valores ou metas. Os achados examinam as condições de vida e traços de personalidade antes e depois da mudança quântica ter ocorrido evidenciando que tais experiências não são tão incomuns como tipicamente se acreditava.