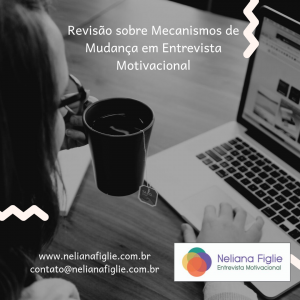 Revisão sobre Mecanismos de Mudança em Entrevista Motivacional
Mechanisms of change in Motivational Interviewing: A review and preliminary evaluation of the evidence
Timothy R. Apodaca and Richard Longabaugh
Neste estudo 5 constructos da EM foram avaliados: fala de mudança/ intenção, prontidão para mudança, envolvimento / engajamento, resistência e a discrepância motivacional do cliente. A evidência mais consistente foi encontrada para três construtos: fala de mudança / intenção do cliente (relacionada a melhores resultados); discrepância motivacional (relacionada a melhores resultados); e comportamento inconsistente com a EM por parte do profissional (relacionado a piores desfechos). Em relação ao uso de técnicas específicas pelo profissional, o uso da balança decisória evidenciou associação positiva com melhores resultados.
Leia o artigo na integra:
https://www.ncbi.nlm.nih.gov/pmc/articles/PMC2756738/