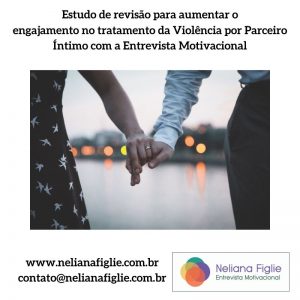 O engajamento do cliente é um componente essencial no tratamento da Violência por Parceiro Íntimo (VPI). É mais provável que os clientes engajados se envolvam com o tratamento e relatem um maior grau de satisfação com o tratamento. O engajamento está associado a resultados positivos do tratamento, como participação em sessões e cumprimento das tarefas. Baixos resultados estatísticos significativos foram relatados nas reduções da VPI, e o envolvimento no tratamento foi identificado como um fator no desfecho, com estudos relatando altas taxas de não comparecimento e abandono.
Este artigo analisa a pesquisa sobre a eficácia da entrevista motivacional (EM) como uma intervenção pré-tratamento para promover o envolvimento no tratamento de homens que foram intimados a participar de tratamento em decorrência de Violência por Parceiro Íntimo. Embora limitados em número (n = 5), esses estudos revelaram uma melhora significativa no engajamento, frequência das sessões e cumprimento das tarefas de casa após a EM. Mais pesquisas são necessárias para identificar engajamento no tratamento por meio da EM especificamente, em vez da atuação da EM para mudança de comportamento.
Referência:
Sara Soleymani; Eileen Britt; Mark Wallace-Bell. Motivational interviewing for enhancing engagement in Intimate Partner Violence (IPV) treatment: A review of the literature. Aggression and Violent Behavior Volume 40, May–June 2018, Pages 119-127.